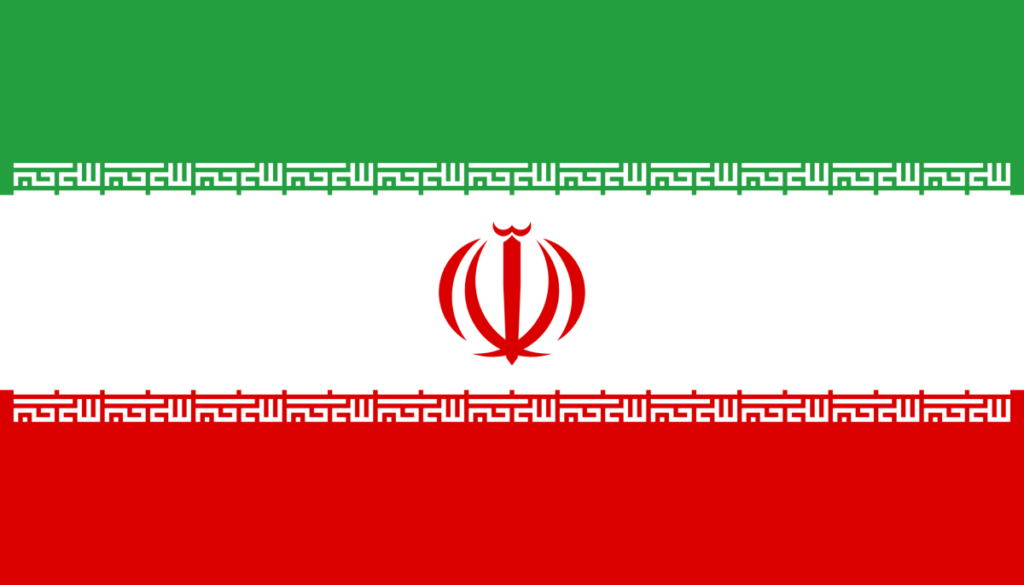 The Three-Coloured Flag, پرچم ایران, Parčam-e Irân, پرچم سه‌رنگ ایران, Parčam-e se rang-e Irân
The Islamic Republic of Iran جمهوری اسلامی ایران (Jomhuri-ye Eslâmi-ye Irân) also known as Persia is a country in Western Asia. It shares borders with Iraq, Turkey, Azerbaijan, Armenia, Turkmenistan, Afghanistan and Pakistan. Its official language is Persian. The capital and largest city is Tehran.
The Iranian Flag design consists of three horizontal bands of green, white and red. The central white band is bordered with the Takbir repeated in white in the Kufic script. The middle of the flag features the emblem of Iran in red. It is known as the Three-Coloured Flag and the current version was adopted in July 1980.
---
Capital City
Area (World Ranking)
2023 Population (World Ranking)
Currency
Flag Ratio (Decimal)
Adopted
Tehran
1,648,195 km² / 636,372 mi²
(17th)
86,758,304
(17th)
Iranian rial
4:7 (1.75)
1980
---
National Anthem of Iran: سرود ملی جمهوری اسلامی ایران Sorud-e Melli-ye Jomhuri-ye Eslâmi-ye Irân "National Anthem of the Islamic Republic of Iran"