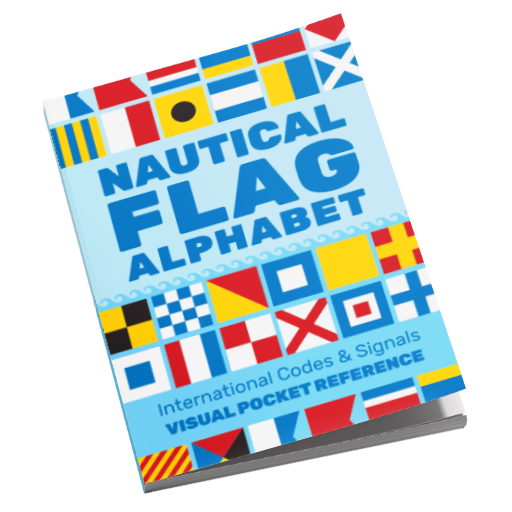 A colorful pocket visual guide that contains an alphanumeric list of all of the International code of signals Flags (ICS) to help adults or children learn about nautical flags & Morse Code and the NATO phonetic alphabet.
Commonly seen dressing ships on special occasions, signal flags are used internationally to signal between two ships or between ship and shore. A set should be carried by every well-equipped boat. It is important for sailors and boaters to understand these flags and their meanings. Each letter of the alphabet has a different ICS message associated. Flags can also be used to spell out words individually.
A useful reference guide to keep aboard maritime boats, yachts and other vessels. It would make a great gift for any boater who owns a sailboat, motorboat, trawler or cabin cruiser. Its visual format would also make it a great learning tool for any children with an interest in sailing, boating, marine life or flags and codes in general.
This handy reference contains:
Alphabet Flags (A-Z Of Nautical Flags)
Substitutes (Sometimes Known As Repeaters)
Numeral Pennants (0-9)
Two-Flag Codes (Common 2-Flag Codes)
Weather Warning Signals
Nato Flags
Flag Etiquette
Quick Reference (All The Flags At A Glance)
Notes (A Blank Page For Notes, Telephone Numbers Or Suppliers)

Buy Now on Kindle or Paperback from Amazon