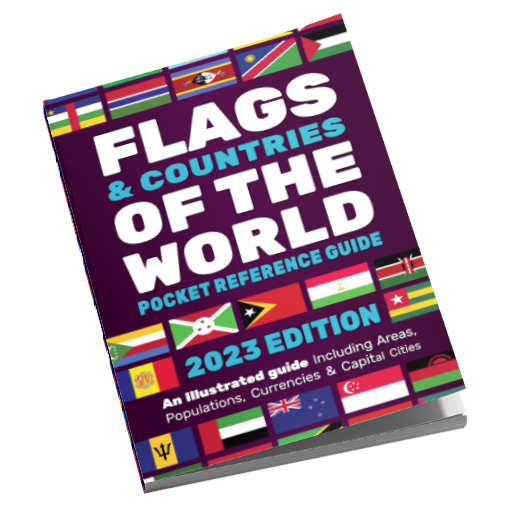 A handy pocket version of our popular Illustrated Guide to Learn Flags From Around The World, With Map, Population, Area, Currency and Capital City of Each Country. This Handy 4 x 6″ travel size book has full color illustrations of over 200 flags from around the world. For all ages for school or home reference.
Its small format is designed for you to take with you wherever you go. The flags are listed alphabetically by continent and also indexed at the back of the book with clickable links in the kindle edition for you to find the country you are looking for quickly and easily. Ideal for any adult or child who is interested in world geography and travel.
For the 2023 update, as requested a worldwide ranking has also been incorporated for the Area and Population of each country.
Country Names, Capital Cities, Areas and Currencies have been updated based on data available as of January 2023. Population is calculated using latest available estimate or latest available census data.
This mini reference guide contains: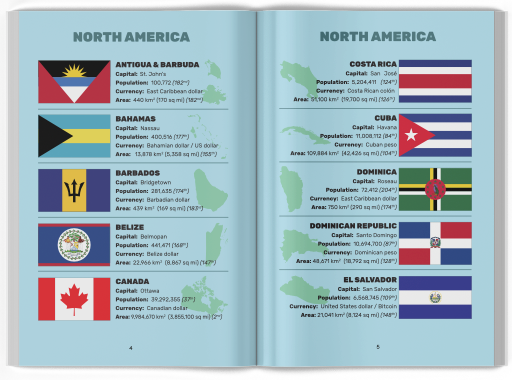 Flags of all independent countries of the world, listed alphabetically by continent
Unofficial Flags of Antarctica
Shapes of every country
Flags of all US States
Flags of the four nations of the UK: England, Scotland, Wales & Northern Ireland
World Maps of North & South America, Africa, Asia, Europe and Oceania & Australia
Capital Cities, Population, Area, Currencies for each country
Population, Area and Most Spoken Languages for each continent

Buy Now on Kindle or Paperback from Amazon