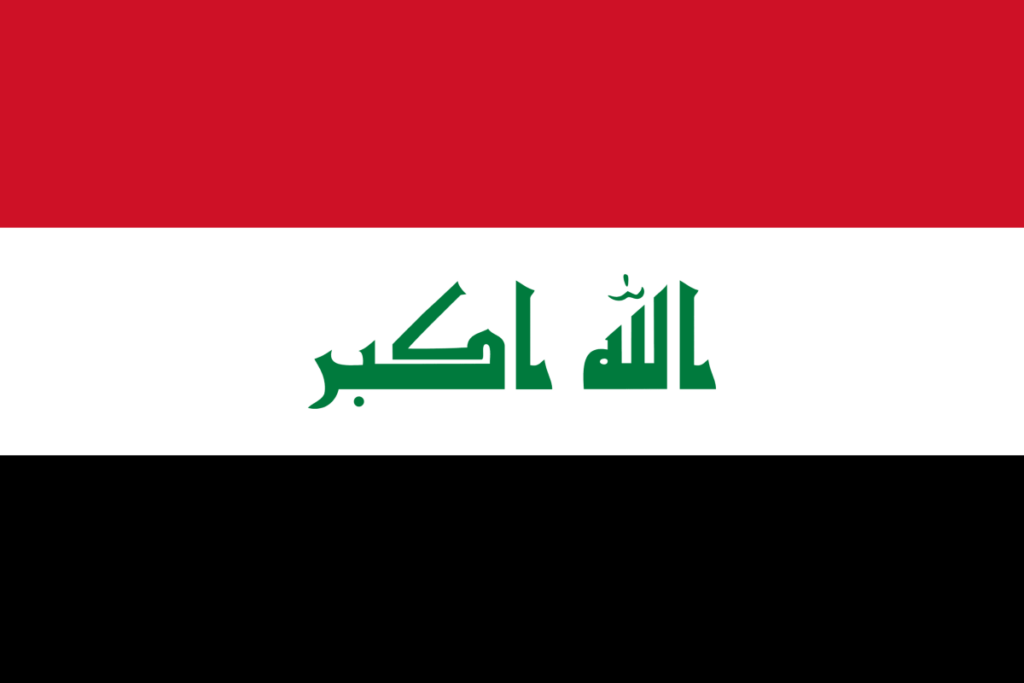 Iraq, officially known as the Republic of Iraq, is a country located in Western Asia. It shares borders with Turkey, Iran and Kuwait. Its official languages are Arabic and Kurdish and its capital and largest city is Baghdad.
Public processions and social events will be held on October 8th to celebrate the birthday of the Islamic prophet Muhammad. A national holiday it is also known as Muhammad Mawlid, Mawlid an-Nabi ash-Sharif, Eid Milad un Nabi, Havliye, Donba, and Gani.
The flag of Iraq was adopted in January 2008. The design consists of three equal horizontal bands of red, white and black. The takbīr (the phrase: "God is the greatest") in green Kufic script is featured in the middle of the white band.
National Anthem of Iraq: موطني Mawṭinī "My Homeland"
---
Capital City
Area (World Ranking)
2023 Population (World Ranking)
Currency
Flag Ratio (Decimal)
Adopted
Baghdad
438,317 km2 / 169,235 mi²
(58th)
40,462,701
(36th)
Iraqi dinar
2:3 (1.5)
2008
---
What Iraq is known as in various languages
al-Irāq – العراق‎ (Arabic), Eraqi – ერაყი (Georgian, Mingrelian), l-Iraq (Maltese), I-rắc (Vietnamese), I-la'a-kho – ཡི་ལའ་ཁོ། (Tibetan), Ioràc (Scots Gaelic), Iraak (Estonian, Võro), Iraaq (Inuktitut), Irac (Aromanian, Romansh, Welsh), Irak (Acehnese, Afrikaans, Alemannic, Croatian, Danish, Dutch, Faroese, Finnish, French, German, Hungarian, Indonesian, Norwegian, Polish, Romanian, Slovak, Slovene, Spanish variant, Swedish, Turkish), Irak – Ірак (Belarusian, Ukrainian), Irak – Иpaк (Bulgarian, Macedonian, Russian, Serbian), Irák (Czech), Irák – Ιράκ (Greek), Irak – עיראק‎ (Hebrew), Írak (Icelandic), Irak – อิรัก (Thai), Irāka (Latvian), Irakas (Lithuanian), Irakaya – ඉරාකය (Sinhala), Irakeu / Irak'ŭ – 이라크 (Korean), Irako (Esperanto), Iraku (Albanian), Iraku – イラク (Japanese), Iraq (Aragonese, Asturian, Central Bikolano, Franco-Provençal, Italian, Kurdish, Malay, Min Nan, Quechua, Spanish), Iraq – Իրաք (Armenian), İraq (Azeri), Irāq – عراق (Persian, Urdu), Iraq- इराक़ (Hindi, Sanskrit), Iraque (Portuguese), Iraquia (Latin), ஈராக், Mesopotamia (Latin variant), Yìlākè – 伊拉克 (Mandarin Chinese) Formerly known as Aram Naharayim – ארם נהרים‎ (Hebrew), Měisuǒbùdámǐyà – 美索不達米亞 / 美索不达米亚 (Mandarin Chinese) Mesopotamia (Finnish, Indonesian, Italian, Norwegian, Romanian, Spanish), Mesopotâmia (Portuguese), Mesopotamia – メソポタミア (Japanese), Mesopotamia – 메소포타미아 (Korean), Mesopotamía – Μεσοποταμία (Greek), Mésopotamie (French), Mesopotamië (Dutch), Mesopotamien (Danish, German, Swedish), Mesopotamiya – Месопотамия (Russian), Mesopoṭāmiyā – मेसोपोटामिया (Hindi, Sanskrit), Mes̄opotemeīy – เมโสโปเตเมีย (Thai), Mezopotamia (Polish), Mezopotámia (Hungarian), Mezopotámie (Czech), Mezopotamya (Turkish), Mežyrichchya – Межиріччя (Ukrainian)