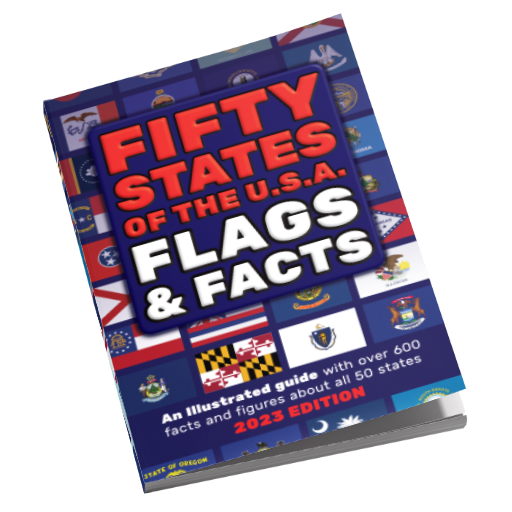 Learn about All 50 American States with this Illustrated Guide for Adults & Children with Capital Cities, Nicknames, Mottos, Population, Area, Anthems and much more.
A 50 state guide book. Learn about every U.S. State. A Full Color illustrated guide with hundreds of facts including Capitals & Largest Cities, Date Admitted to Union, Population, Area, State Nicknames, State Mottos, State Anthems or Songs, State Birds, Trees and Flowers and much more.
Including full color illustrations for every flag of the united states, this handbook is perfect for anyone with a curious mind who wants to learn about the fifty states of America!
Fully updated for 2023 including Latest Flags, Populations and Areas. This new edition also now includes a section on Historical Flags.
Designed with ease of use in mind, states are listed alphabetically. It would make a great gift for any adult or child who is interested in U.S. facts, history, geography and travel and is fully up to date using the latest available data. (February 2022)
Suitable for all ages for school or home reference with a clear and simple premium full color layout, it includes a contents page to make it easy to find the flag you are interested in. It is a handy size (6 x 9") suitable for school bags, backpacks, tote bags, desks and bookshelves.
This handy reference contains:
Flags of all U.S. States listed alphabetically
Other US Flags
Historical State Flags
A Map of USA
Shape outline and position of the capital of every state
Capitals and Largest Cities
Date Admitted to Union
Population & Area
State Anthem / Song / Motto
Demonyms (What the Residents are known as)
State Bird, Tree and Flower
A detailed list of U.S Presidents and Vice Presidents with facts
Miscellaneous U.S. Facts

Buy Now on Kindle or Paperback from Amazon