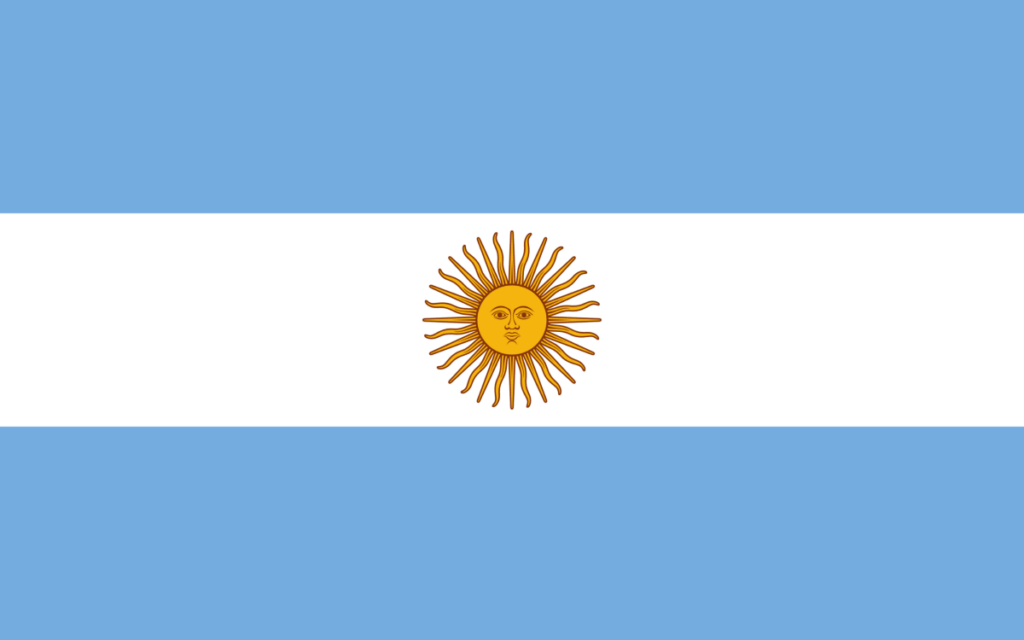 Official Ceremonial Flag, Bandera Oficial de Ceremonia
The Argentine Republic (República Argentina) is a country in South America. The eighth largest country in the world it shares borders with Chile, Bolivia, Paraguay, Brazil and Uruguay. About 40 languages are spoken in Argentina, the official language is Spanish. The capital and largest city is Buenos Aires.
The flag of Argentina was adopted in 1812 with the current version used from 1861. The design features three equal bands of light blue, white and light blue with the sun of may (Sol de Mayo) in the center of the white band.
---
What Argentina is known as in various languages
Achentina – อาร์เจนตินา (Thai), Āgēntǐng – 阿根廷 (Chinese), al-Arǧantīn – الأرجنتين‎ (Arabic), An Airgintín – (Irish), Arc'hantina (Breton), Areuhentina/Arŭhent'ina – 아르헨티나 (Korean), an Argantain (Scots Gaelic), Argentiina (Estonian alternate, Finnish), Argentina (Azeri, Bosnian, Croatian, Czech, Danish, Estonian, Faroese, Guaraní, Indonesian, Italian, Latin, Lithuanian, Malay, Norwegian, Portuguese, Romanian, Romansh, Slovene, Spanish, Swedish, Vietnamese, Võro), Argentina – არგენტინა (Georgian, Mingrelian), Argentina – ארגנטינה‎ (Hebrew), Argentina – Аргентина (Macedonian, Russian, Serbian), Argentina – Արգենտինա (Armenian), Argentína (Hungarian, Icelandic, Slovak), Argentīna (Latvian), l-Arġentina (Maltese), Argentine (French), Argentine – אַרגענטינע‎ (Yiddish), Argentiní – Aργεντινή (Greek), Argentinië (Afrikaans, Dutch), Argentinien (German), Argentino (Esperanto), Argentinska (Lower Sorbian), Argentyna (Polish), Argjentina (Albanian), Arhentina (Filipino/Tagalog), Arhentyna – Аргэнтына (Belarusian), Arhentyna – Аргентина (Ukrainian), Arhintina (Quechua), yr Ariannin (Welsh), Ārjaṃṭinā – આર્જંટિના (Gujarati), Arjantin (Turkish), Ārjanṭinā – अर्जेण्टीना (Hindi, Marathi, Sanskrit), Arjantinawa – ආර්ජන්ටිනාව (Sinhala), Arjentina – আর্জেন্টিনা (Bengali), Arjenṭīnā – అర్జెంటీనా (Telugu), Arusintina (Inuktitut), Aruzenchin – アルゼンチン (Japanese), Arxentina (Asturian, Galician), Aržentina – Аржентина (Bulgarian), Arzhantin – آرژانتین (Persian), அருச்செண்டீனா, ارجنٹائ