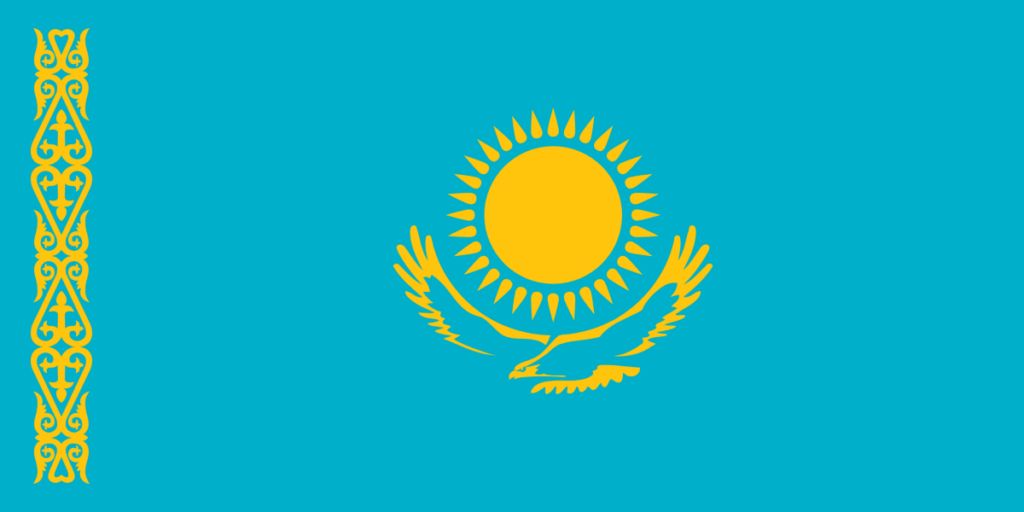 Қазақстан туы, Qazaqstan tuy, Flag Respubliki Kazakhstan
The Republic of Kazakhstan (Қазақстан Республикасы) (Qazaqstan Respublikasy) is a country in located in Central Asia and Eastern Europe. It shares borders with Russia, China, Kyrgyzstan, Uzbekistan and Turkmenistan. Its official languages are Kazakh and Russian. The capital is Astana and its largest city is Almaty.
Adopted after the collapse of the Soviet Union in 1992 the design of the Kazakh flag features a gold sun with 32 rays above a silhouette of a steppe eagle centered on a cyan blue field. The left hand side features a national ornamental pattern also in gold.
Capital City
Area (World Ranking)
2022 Population (World Ranking)
Currency
Flag Ratio (Decimal)
Adopted
Nur-Sultan
2,724,900 km² / 1,052,090 mi²
(9th)
19,030,000
(66th)
Kazakhstani tenge
(KZT)
1:2 (0.5)
1992