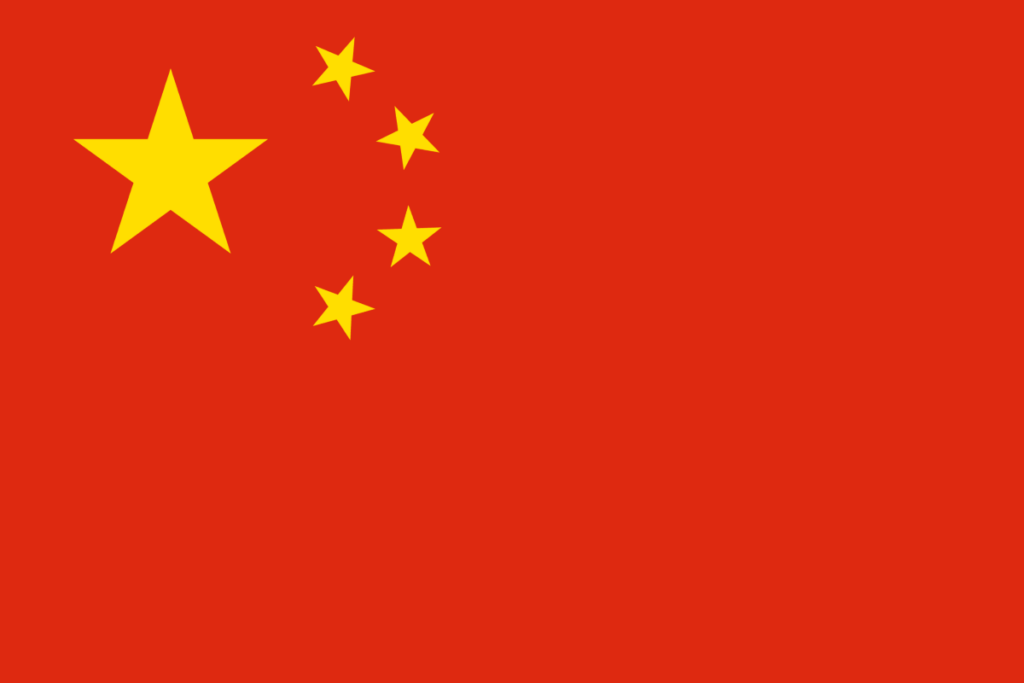 On 27 September 1949 the Chinese flag designed by Zeng Liansong was approved by the Chinese People's Political Consultative Conference. On 1 October 1949 It was officially adopted as the National Flag of the People's Republic of China.
A national public holiday is celebrated annually on 1st October which is officially the National Day of the People's Republic of China. Flag raising ceremonies, parades, fireworks and concerts are held.
Known as the Five-star Red Flag, the flag of China design features a field of red with a large five-pointed golden star to the left of an arc of four smaller golden stars in the canton.
National Anthem of China: 义勇军进行曲 Yìyǒngjūn Jìnxíngqǔ "March of the Volunteers"
---
Capital City
Area (World Ranking)
2023 Population (World Ranking)
Currency
Flag Ratio (Decimal)
Adopted
Beijing
9,596,961 km² / 3,705,407 mi²
(4th)
1,410,539,758
(1st Largest)
Renminbi
2:3 (1.5)
1949
---
What China is known as in various languages

চীন[(Bengali), Čayna – ቻይና (Amharic), Chin – จีน (Thai), China (Dutch, German, Guaraní, Indonesian variant, Low Saxon, Portuguese, Romanian, Romansh, Spanish), Ch·ina (Franco-Provençal), Chinastan – Չինաստան (Armenian), Chinaya – චීනය (Sinhala), Chine (French), Chineti – ჩინეთი (Georgian, Mingrelian), Chinska (Lower Sorbian), Chiny (Polish), Chūgoku – 中国 (formally Chūka Jimmin Kyōwakoku – 中華人民共和国) (Japanese), Çin (Azeri, Turkish), Cīn – चीन (Hindi), Cīn – چین (Urdu), Cina (Indonesian, Italian, Malay variant), Cīna – चीन (Sanskrit), Čína (Czech, Slovak), iċ-Ċina (Maltese), Ĉinio (Esperanto), jugygu'e/.djunguos. (Lojban), rGya.nag – རྒྱ་ནག། (Tibetan), Hiina (Estonian, Võro), Jungguk/Chungguk – 중국 (formally Junghwa Immin Gonghwaguk/Chunghwa Inmin Konghwaguk – 중화인민공화국) (Korean), Chunwa (Quechua), Khine – כינע‎ (Yiddish), Kiina (Finnish), Kina (Albanian, Bosnian, Croatian, Danish, Faroese, Norwegian, Swedish), Kína – Κίνα (Greek), Kína (Hungarian, Icelandic), Ķīna (Latvian), Kina – Кина (Macedonian, Serbian), Kinija (Lithuanian), Kitaj – Кітай (Belarusian), Kitaj – Китай (Bulgarian, Russian), Kitajska (Slovene), Kytaj – Китай (Ukrainian), aṣ-Ṣīn – الصين‎ (Arabic), Sin – סין‎ (Hebrew), an tSín (Irish), Sina (Breton, Latin), Sina or Kaina (Inuktitut), Negara Cina (Malay variant), Sìona (Scots Gaelic), Sjina (Afrikaans, Limburgish), Tiongkok (Indonesian), Tiong-kok (Hokkien/Min-Nan), Trung Quốc/Trung Hoa (Vietnamese), Tseina (Welsh), Tsina (Central Bikolano, Filipino/Tagalog), Xina (Catalan), Zhōngguó – 中國 /中国 (Chinese), சீனா (Tamil)