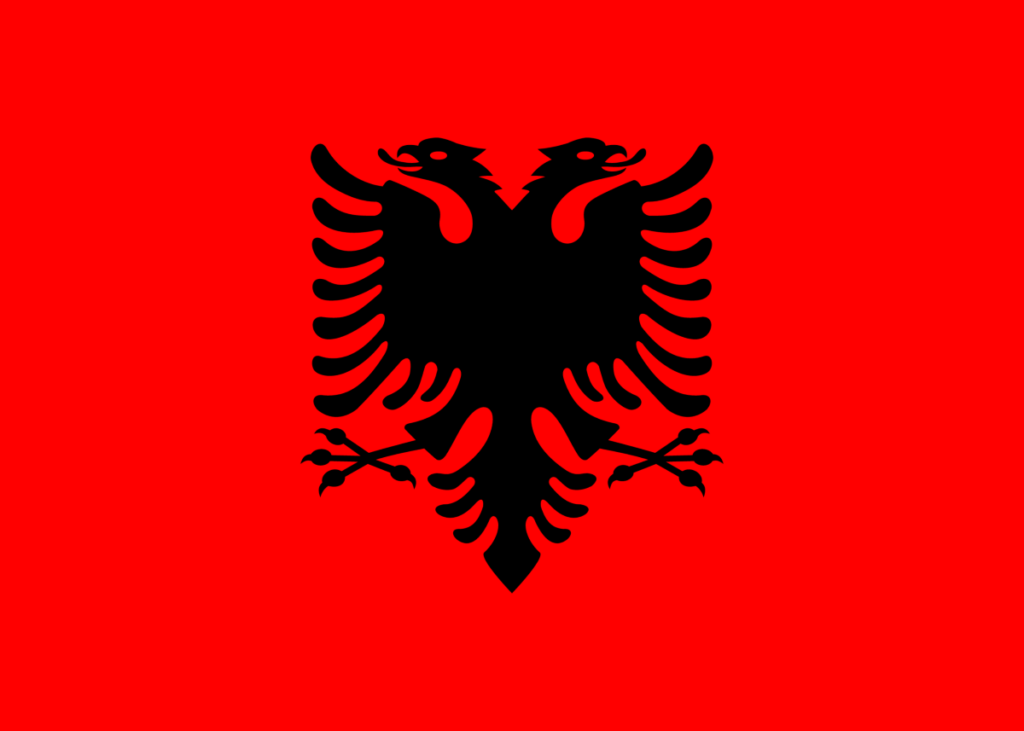 The Republic of Albania known as Shqipërisë or Shqipëri is a country in Southeastern Europe. It shares borders with Montenegro, North Macedonia and Greece. Its official language is Albanian. The capital and largest city is Tirana.
The Albanian flag was adopted in January 1946. The design consists of a black two-headed eagle in the center of a red field. The Eagle represents the sovereign state of Albania and the red stands for bravery, strength and courage of the Albanian people.
Capital City
Area (World Ranking)
2023 Population (World Ranking)
Currency
Flag Ratio (Decimal)
Adopted
Tirana
28,748 km² / 11,100 mi²
(140th)
2,793,592
(136th)
Lek
5:7 (1.4)
1946
National Anthem of Albania: "Himni i Flamurit" (Hymn to the Flag)
---
Counties of Albania
There are 12 counties in Albania which are: Berat, Dibër, Durrës, Elbasan, Fier, Gjirokastër, Korçë, Kukës, Lezhë, Shkodër, Tiranë and Vlorë. Sometimes known as Prefectures (Prefekturë) they are divided into 61 Municipalities and 373 Administrative units.
| | | | | |
| --- | --- | --- | --- | --- |
| County Name | Municipalities | Area | Emblem / Coat of Arms | Flag |
| Berat | Berat, Kuçovë, Poliçan, Skrapar, Ura Vajgurore | 1,798 km2 (694 sq mi) | | |
| Dibër | Bulqizë, Dibër, Klos, Mat | 2,586 km2 (998 sq mi) | | |
| Durrës | Durrës, Krujë, Shijak | 766 km2 (296 sq mi) | | |
| Elbasan | Belsh, Cërrik, Elbasan, Gramsh, Librazhd, Peqin, Prrenjas | 3,199 km2 (1,235 sq mi) | | |
| Fier | Divjakë, Fier, Lushnjë, Mallakastër, Patos, Roskovec | 1,890 km2 (730 sq mi) | | |
| Gjirokastër | Dropull, Gjirokastër, Këlcyrë, Libohovë, Memaliaj, Përmet, Tepelenë | 2,884 km2 (1,114 sq mi) | | |
| Korçë | Devoll, Kolonjë, Korçë, Maliq, Pogradec, Pustec | 3,711 km2 (1,433 sq mi) | | |
| Kukës | Has, Kukës, Tropojë | 2,374 km2 (917 sq mi) | | |
| Lezhë | Kurbin, Lezhë, Mirditë | 1,620 km2 (630 sq mi) | | |
| Shkodër | Fushë-Arrëz, Malësi e Madhe, Pukë, Shkodër, Vau i Dejës | 3,562 km2 (1,375 sq mi) | | |
| Tiranë | Kamëz, Kavajë, Rrogozhinë, Tirana, Vorë | 1,652 km2 (638 sq mi) | | |
| Vlorë | Delvinë, Finiq, Himarë, Konispol, Sarandë, Selenicë, Vlorë | 2,706 km2 (1,045 sq mi) | | |