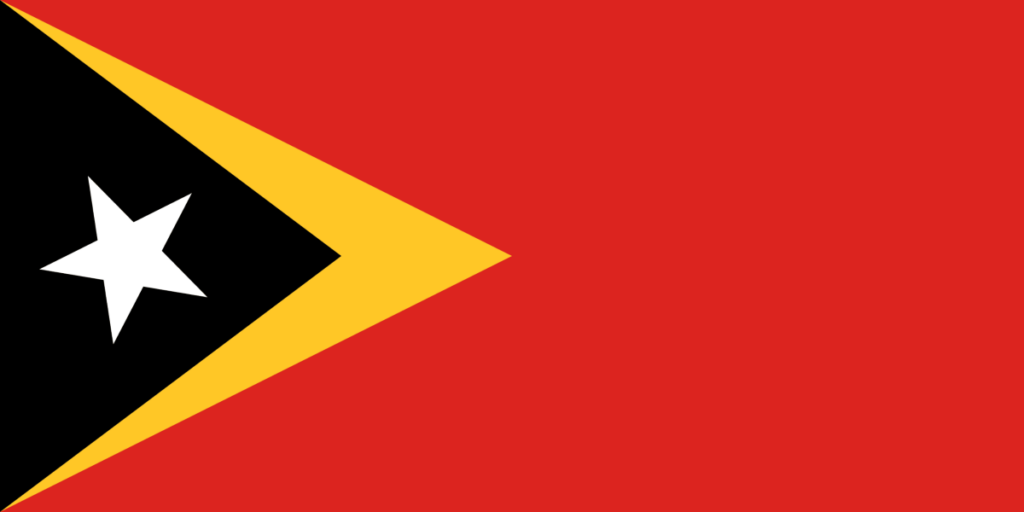 Bandeira de Timor-Leste
Democratic Republic of Timor-Leste (República Democrática de Timor-Leste / Repúblika Demokrátika de Timór-Leste) also known as East Timor is an island country in Southeast Asia. Located north of Australia it is made up of half of the island of Timor the Oecusse exclave of the island and the minor islands of Atauro and Jaco. Its official languages are Portuguese and Tetuma. The capital and largest city is Dili.
The national flag of East Timor has been in use since 1975 and was officially adopted after independence in 2002. It consists of a red field with the black triangle superimposed over an elongated yellow triangle on the left side. A five-pointed white star in the center features centrally on the black triangle.
Capital City
Area (World Ranking)
2020 Population (World Ranking)
Currency
Flag Ratio (Decimal)
Adopted
Dili
14,919 km² / 5,760 mi²
(156th)
1,318,445
(156th)
United States Dollar
(USD)
1:2 (0.5)
2002