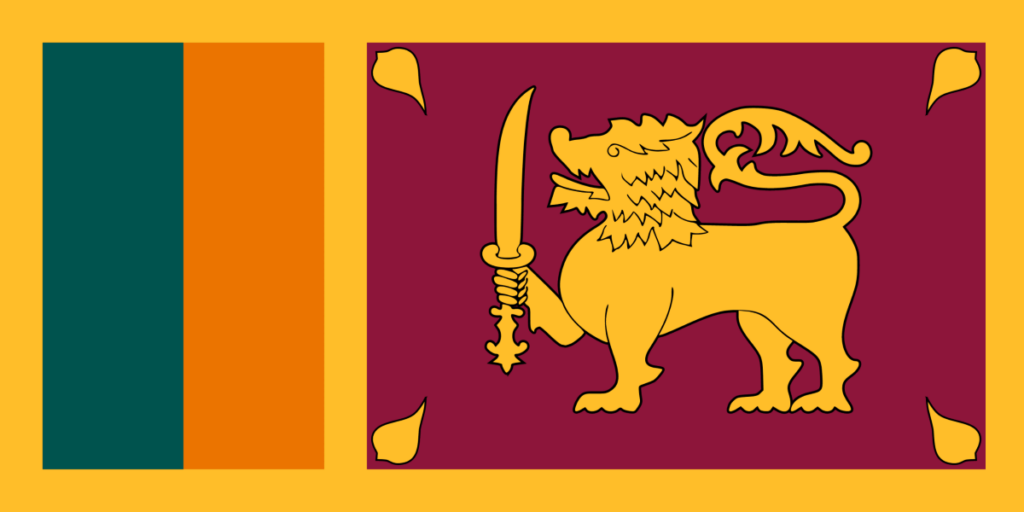 ශ්‍රී ලංකාවේ ජාතික කොඩිය, Śrī Laṃkāvē jāthika kodiya; இலங்கையின் தேசியக்கொடி, Ilankaiyin teciyakkoṭi), The Sinha Flag, Lion Flag,
The Democratic Socialist Republic of Sri Lanka is an island country in South Asia. Situated in the Indian Ocean southwest of the Bay of Bengal and southeast of the Arabian Sea. Its official languages are Sinhala and Tamil. The capital is Sri Jayawardenepura Kotte and its largest city is Colombo.
The Sri Lankan flag was adopted in May 1972. The design consists of a golden border containing two panels, a maroon red rectangle with a gold lion holding a sword and four bo tree leaves; and green and orange vertical stripes panel.
Capital City
Area (World Ranking)
2021 Population (World Ranking)
Currency
Flag Ratio (Decimal)
Adopted
Sri Jayawardenepura Kotte (Administrative)
Colombo (Commercial)
65,610 km² / 25,332 mi²
(121st)
21,803,000
(58th)
Sri Lankan rupee (LKR)
1:2 (0.5)
1972