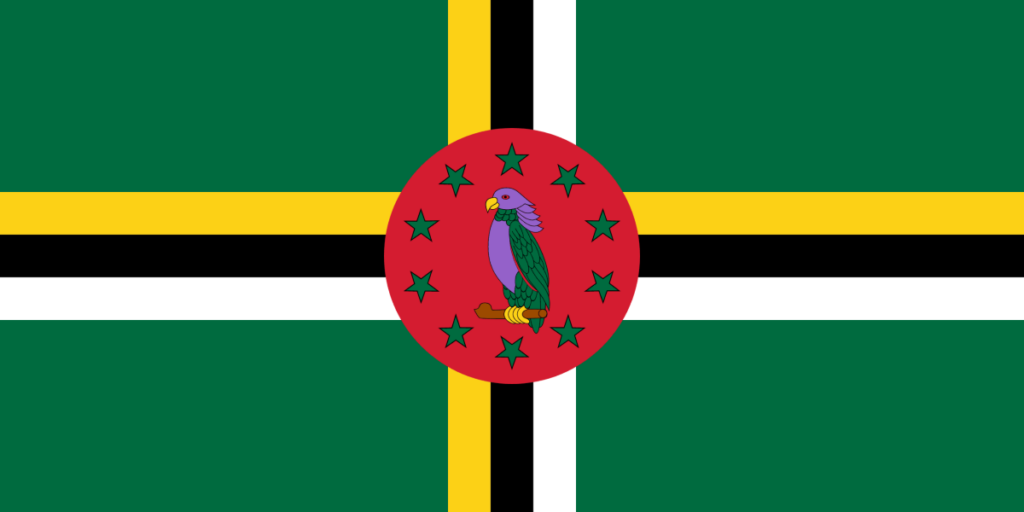 Dominica officially known as the Commonwealth of Dominica, is an island country in the Caribbean. This English speaking country's capital and largest city is Roseau. Nicknamed the "Nature Island of the Caribbean" for its natural environment, the island has nine volcanos, black sand beaches, a boiling lake and many rivers.

The flag of Dominica was adopted in November 1978, the current design with minor changes was introduced in 1990. The design consists of a green field with a cross of yellow, black, and white stripes. At the center is a red disk featuring a purple Sisserou Parrot facing the left circled with ten green five-pointed stars.
Capital City
Area (World Ranking)
2022 Population (World Ranking)
Currency
Flag Ratio (Decimal)
Adopted
Roseau
751 km² / 290 mi²
(189th)
72,469
(204th)
Eastern Caribbean dollar (XCD)
3:5 (1.6)
1978
Where is Dominica on a map of North America?